SEDCRET MOUNB TAIN FORT AWESOME!!!! WIKI!!!!!!!1
Wlecome to the Secret MOintinb fort awosmeo WIki=
Edit
This is the Sercet <Mountain Mort Awsoem Wiki. It is gunna have eall the stuff for a wiki.
The show is about fur disgustoids name Festrot Farts GWeeclock Slog anf Dingloe anf they live in a undirergroung mountain called Secret Mountain Koret ASesome. Thay ell live in a ,mounain underground cvalled secret mountain fort awesome. They are all doing athe sujper cooles anf awesumest things ever.
Charchacters in the show
Edit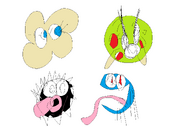 Fetsro
Gwelock
Fart
Slog
Dingel
Fort
Latest activity
Edit
Polls
Your want the Secret Mountain Fort Awesome to come back?
Community content is available under
CC-BY-SA
unless otherwise noted.